Archives: Juli 2006
BODY IN THE BLUE
the original programm
openair art exhibition 16.-19. august 2006
ATTENTION: PROJECT IS CANCELED!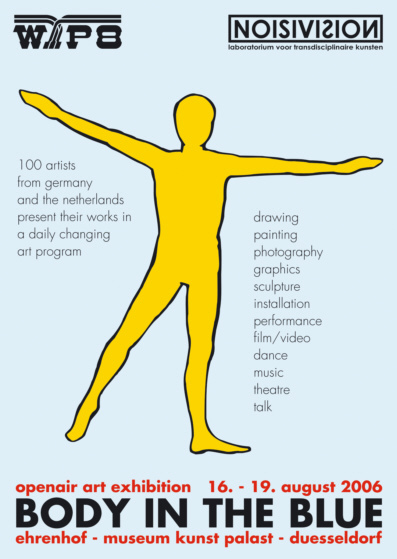 body in the blue is a project of WP8 and NOISIVISION
contact and info : www.wp8.org - www.noisivision.nl
body in the blue is sponsored by:



general consulate of the netherlands, Düsseldorf


department of culture, Düssledorf

province north brabant, Netherlands

BODY IN THE BLUE - Ehrenhof Düsseldorf
100 artists from germany and the netherlands
present their work in a daily changing art program

WORKS
drawing-painting-photography-graphics-sculpture-installation-talk
Markus Ambach, Suus Baltussen, Fenja Braster, Swen Buckner, Andreas Endermann, Karin Fehr, Ruben Feenstra, Claus Föttinger, Bernd Glaser, Pamela Granderath, Ernst Herrmann, Andreas Hetfeld, Stefan Hoderlein, Joung-en Huh, Birgit Jensen, Insook Ju, Kay Kaul, Christine Klein-Badali, Jan Kolata, Claudia van Koolwijk, Gabriele Körner, Alexej Koschkarow, Tzu-hsun Lee, Simone Lettow, Doris Mademann-Meise, Friederike Mainka, Bettina Meyer, Heribert Münch, Jyrg Munter, Jaqueline Overberg, Melanie Richter, Melanie Schmidt, Anne Sievert, Jörg Steinmann, Andreas Techler, Gunnar Tjaden, Sukyun Yang
STAGE
performance-dance-music-theatre - daily from 15h00 to 19.00

Anakoluth, Jordan Artisan, Bonobo Bastards, Thomas Bernstein, Danibal, Paul Djorai, Ana Euson, Michaela Fünfhausen, Ghandiman, Max Hoffs, Ill Skill Squad, Axel Joppe, Yann Keller, Ramon Kool, Doris Mademann-Meise, Wilhelm Mundt, Helm Neu, Kasander Nilist, Noordvolk, K.D. Oldenburg, Oneofakind, Martin Peulen, Plunk, Powerboat, Christiaan Ramon, Leonie Ruissen, Achmed Schachbrett, Fritz Sitterlé, Jörg Steinmann, Jean Noel Sterz, Andreas Techler, The Realbook Fuckers, Tamar Tieleman, Vilbjorg, x-maxx, Jessica Zeylmaker
CINEMA

film / video - daily from 22h00

Apvis, Demian Albers, Felix Balzer, Hubert Baumann, Tanja Beltman, Thomas Bernstein, Inken Boje, Jenny van den Broeke, Terry Buchholz, Choc Wah Man, Christian Deckert, Rainer Eisch, Stefan Ettlinger, Susanne Fasbender, Patrick Gaden, Romano Granderath, Jost Halbertsma, Karin Hochstatter, Janne Hoeltermann, Max Hoffs, Gabriele Horndasch, Florian Hüttner, Michael Jonas, Floris Kaayk, Notburga Karl, Pauline Koehorst, Norbert Kraus, Till Krause, Kirsten Krüger, Ubbo Kügler, Illo Lehr, Stefan Lux, Mathias Meyer, Ulrike Möschel, Ulrich Moskopp, Markus Mußinghoff, Nienstedt und Jonas, Judith Nothnagel, Monika Pirch, Ute Reeh, Klaus Richter, Melanie Richter, Jochen Saueracker, Vanessa Sauerbrey, Nicola Schrudde, Carsten Schulz, Helmut Schweizer, Wolfgang Spanier, Jörg Steinmann, Myriam Thyes, Marike Verbiest, Winfried Virnich, Aram Voermans, Ralf Weißleder, Jost Wischnewski, Anne Wissmann, Sukyun Yang & Insook Ju
PROGRAM
Preview Program of Project: please click `MORE´ on this site
More...
[0]
comments
(19542 views) | [0]
Trackbacks
[0]
Pingbacks
u-clips
von Jochen Saueracker
FAHNEN-KLAPPE
WP8 Kickertunier