Konzert
Sam Walker & Fredrik Kinbom
Wed - 10. Apr. 2013 - 21:30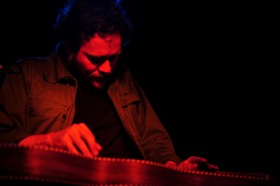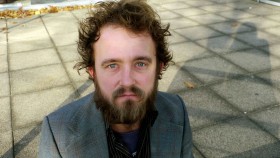 Doppelkonzert mit dem Schweden Fred Kinbom und dem Engländer Sam Walker.

Sam Walker's website: www.themuel.com
Fredrik Kinbom's website: www.fredrikkinbom.com

Eintritt: 5€
Beginn: 21.00 Uhr

Sam Walker has spent his life immersed in music and shows no signs of slowing
down. He is a multi–instrumentalist, songwriter, composer and performer whose
shows (solo and with his band The Muel) have been gaining notoriety across the
world for their eclectic, raucous, hilarious and beautiful nature.
With songs full of hope and a stage full of all kinds of instruments including guitars,
foot percussion, keyboards, steel pans, drums and a voice that ranges from the
sublime to a screeching yowl - Sam's solo shows conjure up a rare and unique spine
tingling atmosphere that can rock a sweaty packed club or charm you in the intimacy
of your living room.
The last few years have seen Sam perform across the world at festivals, clubs,
houses, gardens, hospitals, shops, streets and anywhere else that will have him.
Highlights include 3 European solo tours, artist in residence at Freiburgs ZMF
festival, 3 shows at the UK's Glastonbury Festival, a short tour of Australia and a
set at The Woodford folk festival in Queensland on New year's eve.
"Brilliant" Tom Robinson - BBC 6 Music (UK)
"Tender, hilarious, rocking and foot-stompingly grooving" Zig-Zag (UK)
Sam and The Muel have released one album, "Once at Everywhere", which received
critical praise and generous airplay on BBC 6 music in the UK. Sam is currently
working on a new album for release in late 2013 and will be touring the UK and
Ireland supporting Tom Baxter in March 2013 and then returning to tour Europe solo
in April 2013 in a double bill with his friend Swedish lap steel playing songwriter

Fredrik Kinbom is a Swedish lap steel slide guitarist, songwriter and singer who is
attracting a steadily growing number of fans through his very personal brand of
music, cinematic moods and intimate live shows.
Fredrik Kinbom truly has his own voice - as a singer, writer and lap steel player. As
Swedish roots/folk magazine Lira wrote, "those who expect familiar slide playing à la
blues or country will have to look elsewhere. Kinbom's music finds nourishment from
many disparate sources. It can be Arabic notes, klezmer, African or Nordic sounds,
Tom Waits feel or jazz quirkiness."
As a songwriter, Fredrik Kinbom recently collaborated with platinum-selling Australian
artist Sarah Blasko on several songs on her critically acclaimed album "I Awake",
which was recorded with with Bulgarian Symphony Orchestra.
As a lap steel player, he has played with acts like award-winning Aboriginal
Australian singer Gurrumul and critically acclaimed UK band Moulettes, on stages
like the Barbican Hall in London. He is mentioned alongside slide guitar legends in
US book "Slide Rules" and fans include guitar legend James Williamson of Iggy &
The Stooges.